IBAMA Blood and Spirit Active Oxygen Ergonomic Memory Foam Pillow with Cool Gel, Adjustable Height and Helps You Sleep Better with Neck-Aligning Contours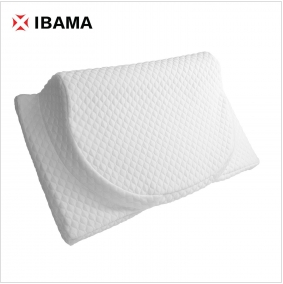 Blood and Spirit Active Oxygen Pillow provides support for your head neck and shoulder for better alignment while you sleep. Constant elasticity, never go out of shape, freely adjust to height, prevent mildew, non-toxic, anti-bacteria, foldable, easy to carry.

Made with cool gel and premium high density memory foam material that conforms to your body, it offers plush comfort to improve your quality of sleep.

The soft, luxurious zip-off cover is machine washable and resistant to allergens and mites.

12 pressure-retarding airbags, improving blood oxygen level. Unlimited 3D adjustment, promoting deep sleep.

Zero pressures for head, shoulder and spine, energy, blood and spirt unobstructed. Size: 66 * 38 * 13 CM.
The Pillow Height By Yourself To Adjust 12 splayed globular airbags arranged in three rows are designed specifically for the head,neck and shoulder. By inflating and deflating, you could adjust the height of the pillow and its softness. It is the first style of the pillow that can adjust the height in the world. Ease of cervical vertebra acid, swelling and pain All-round zero pressure, tender micro-adjustment to fully relax the nerves of the head, neck and arm, reducing heart rate and improving blood oxygen levels. Reduce heart attacks, insomnia and neurasthenia. Every night would be a good deep sleep night and every morning you would find yourself energized and refreshed, ready to go for a wonderful life. Effectively improve snoring During sleep, the dual micro-adjustment, which is the dual pressure-relieving function of 12 independent airbags and aerospace materials during sleep turning and micro-movement of the head, would relieve the pressure of head and neck, increase elasticity of laryngeal and cervical muscles, expand respiratory tract, increase blood oxygen content, which soothes breath and reduces snoring. Snoring not only gravely affects our health, but also is prone to induce sudden events and should be highly attended. A good pillow changes one's life. Most Suitable For You The perfect combination of conforming memory foam and cooling gel! IBAMA Blood and Sprit Active Oxygen Pillow relaxes the nerve system and generates a fast as well deep sleep. Deep sleep is the "gas station" for a wonderful life and the best way to restore facial beauty. How to get a high-quality deep sleep? IBAMA Blood and Sprit Active Oxygen Pillow is your best choice!